Protect Your Sprinkler with a Winterization Irrigation System Service.
Are you a homeowner in the Kansas City area that is putting off scheduling your annual winterization irrigation system service? As the leaves start to fall and the weather gets a little colder it's important not to forget to properly shut down your sprinkler.
Why? Because your sprinkler works hard during the warmer months and it is a vital piece to keeping your lawn healthy all summer long. Being proactive with your lawn care services can save you a headache and the costs of repairs!
Top 3 Reasons to Schedule a Winterization Irrigation System Service.
Last month we talked about the importance of choosing a professional to perform your sprinkler winterization service. These reasons are so important, we decided we should talk about them again.
1. Avoid the Cost of Repairs
Sprinkler systems are huge investments that take time and financial resources to install & maintain. To ensure your sprinkler is running at full capacity next summer, it is essential to blow out all of the remaining water left in irrigation system pipes, valves, and other components. Why? Because when it freezes, the water can expand which can crack or damage the system.
2. Tap Water that is Fertilizer & Pesticide Free
A professional winterization irrigation system service has the potential to protect the quality of your tap water. If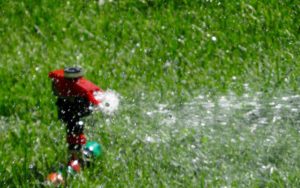 water freezes your Backflow Prevention Device can crack, which no longer prevents things like fertilizers and pesticides flowing into your tap water. The Backflow Prevention Device is one of the most expensive components of a typical irrigation system – so damage can cost a homeowner big money.
3. Don't Dig Up Your Landscaping Again
Repairing or replacing an irrigation system can result in digging up the areas of your yard. Be proactive instead of reactive and take the proper steps to protect your sprinkler.
Last Minute Landscaping Services before Winter.
Even though fall is here, there is still time left to shapen up your lawn before the winter months.
Shrub Trimming Service
Shapen up this fall an don't leave your shrubs out of control this winter. Winter has a lot of drawbacks but think about how beautiful your shrubbery could look dusted with white snow during the holidays. While we are serving your irrigation system, Aspen can provide shrub trimming service in Kansas City.
Aspen Lawn & Landscape also provides tree trimming services.
Patios & Other Hardscaping Services
Fall is the perfect season to begin hardscaping services in your backyard. Aspen Lawn & Landscape offers a variety of hardscaping services to homeowners in the Kansas City area.
More about Hardscaping Services
More about All Landscaping Services
Use our free quote tool below or request a callback for professional Winterization Irrigation System Service in Kansas City.