A Sprinkler System Installation in Kansas City
How do I Install a Sprinkler System?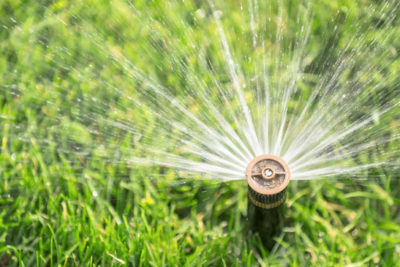 You can probably install a sprinkler system in Kansas City with extensive research and hours of watching YouTube videos. The steps involved in installing a sprinkler system in Kansas City are pretty straightforward.
Thanks to our trusted partner and provider, Rain Bird, they provide brief and quick steps on how to install a sprinkler. We'll show you the steps to a perfect sprinkler system installation.
Place a marker for every sprinkler location & use string to map where your pipe will go.

Dig trenches 8-12″ deep following the string.

Place the pipe and fittings along your string; be sure to use the appropriate pipe for your climate/ location

Tap into your water service line and properly create a connection to your water line

Add your shut-off valve, cut the pipe and glue directly to your fittings

Be sure to clean and prime your surface, apply the glue to the fitting & pipe then connect

Next, continue building your PVC pipe supply line

Build your Manifold

Connect Your Wires

Flush Out Your System.
3 Things You Don't Want to Overlook
Identify Source Lines
User Proper Piping
Adhere to Local Codes
Be Sure to Identify Any Source Lines Before Starting
It is extremely important to know where all of your gas lines, power lines, and cable TV lines are before starting to dig your trenches. Accidentally breaking one of these lines can be costly – both monetary and convenience based. Unsure how to identify these lines? Aspen's team of professionals can help you with this process.
The type of piping you need to use will depend on your climate and ground type. For example, PVC pipe is the standard option. However, there are different diameters and wall thickness'. Poly pipe is for colder climates and has a different installation process.
Don't Overlook Local Codes
It's important to check your local codes before you start installing a sprinkler system. When tapping into service lines, you should use different procedures based on the type of material you are using. Some local codes require professional installation.
---
While installing a sprinkler is possible for an individual to tackle, with the amount of time, manpower, and careful installation process a professional sprinkler system installation in Kansas City may be the best option.
Aspen Lawn & Landscape is your resource for a sprinkler system installation in Kansas City.

Back to all Posts